Here are instructions on how to make an impressive Christmas-tree-shaped decoration. As this decoration makes use of toilet paper rolls, it is especially suitable for bathrooms and lavatories.
The idea and photograph were kindly provided by Karen Brooks-Hodges.
What you will need
39 toilet paper roll tubes: use fewer to make a tree smaller than that shown in the photo; you can use halved kitchen towel rolls instead
39 small Christmas baubles (you need as many baubles as toilet paper roll tubes); shatterproof baubles are safest
Wide, festive ribbon
Tree topper of your choice
Sheet of cardboard or thick paper to stick the toilet paper roll tubes onto (optional)
Suitable glue
Scissors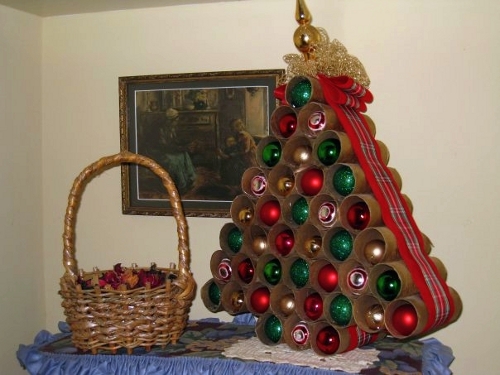 What to do
Simply glue the cardboard rolls together in the form of a Christmas tree shape. Make sure that the "trunk" of the tree is wide enough to stop the tree from toppling over. Also, to help make the structure sturdier, you may want to use a large piece of cardboard or thick paper as a backing. You can draw the shape of tree you want to make on the cardboard before you start sticking on the rolls. If you do use a cardboard backing, remember to cut off the excess card around the tree shape.
Now glue a bauble inside each tube. You can really change the appearance of the decoration by changing the color scheme. Consider choosing baubles to match your bathroom.
Tie a wide ribbon around the entire Christmas tree shape (you may want to glue it down). A bow on the top, like that shown in the picture, looks particularly pretty.
Attach a tree topper to the top of the tree and you are done!